REVISITING SOFIA
DIGITAL ESSAY
by Frosina Parmakovska
Every journey, especially one involving a literary residency whose goal is to facilitate the creative process, is of tremendous significance for a writer and their work, especially in the case of long forms like the novel and particularly with long journeys of a month or more. The goal of my residency in Sofia in March 2020 was precisely this – to get my creative juices flowing, but ... The journey went far beyond its initial framework and intentions, and turned into a real adventure. Both in a literary sense and in real life.
This text will soon serve as a parallel history of the Covid-19 epidemic, which apart from influencing literally all of life on earth also had an impact on the course of my residency. So let me begin with the fact that on 1 March, when I left for Sofia, there was only one registered positive case of Covid-19 in my country (a woman who had returned from Italy), and in Bulgaria not even one. This meant that life in our region went on quite normally (what used to be considered normal), things were under control (not that there was anything that needed to be under control) and the epidemic was far away (a situation that would change at a dizzying pace).
I arrived in Sofia late at night after a five-hour bus trip. Upon arrival, I started unpacking the things I would need for the coming month in my new home, which is one of the most pleasant places I've ever stayed with the aim of writing. A beautiful house in beautiful settings, bequeathed by the artist Nenko Balkanski. 12 Latinka Street would be not only my physical address but also the home of my emotions and my expectation that I would return to Skopje with a well-drafted novel – one close to its final version.
I devoted myself to the journey, or rather to writing, from the word go. I immediately felt like a native because everything around me was strangely familiar and warm and "mine" and indescribably close to home. To be honest, the whole situation with the virus seemed normal (again, what used to be considered normal) and didn't impinge on the journey, i.e. on life. At least not yet ...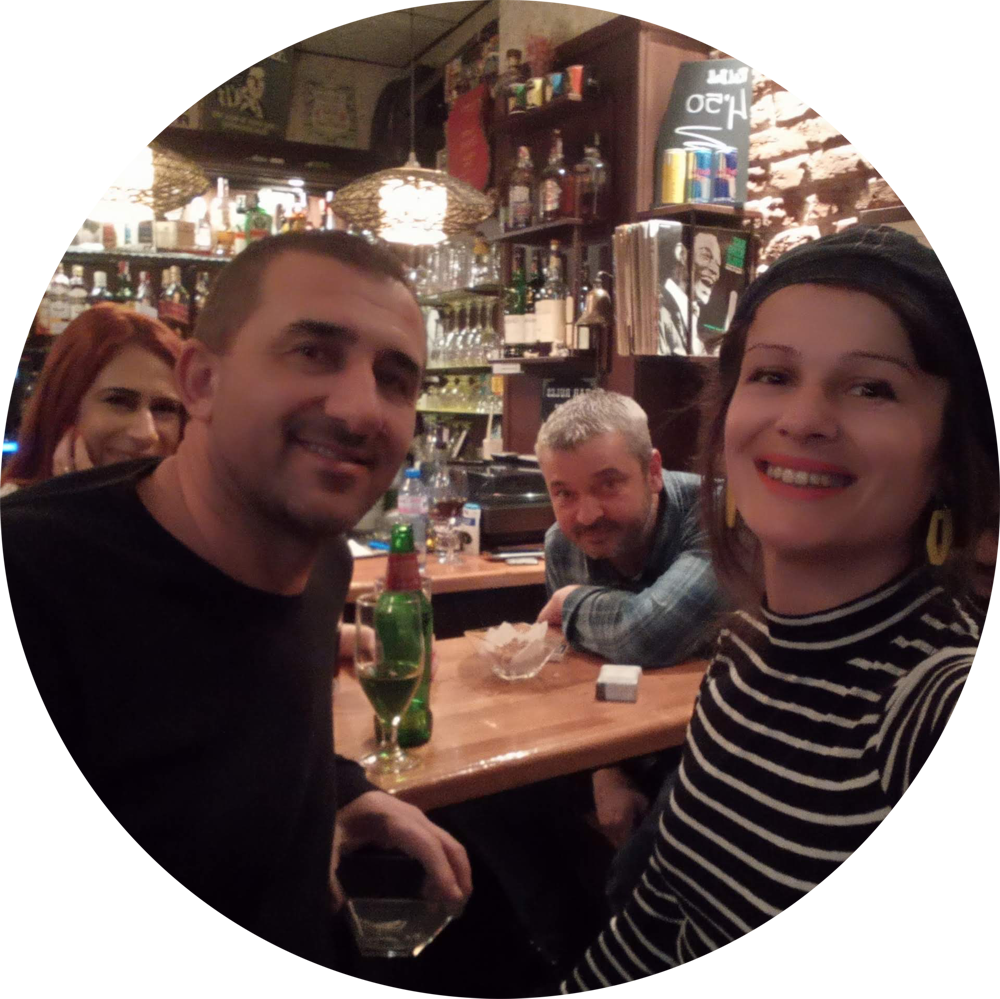 It would be no exaggeration to say that the first two weeks of the residency were quite ordinary, almost as if the epidemic didn't exist around us. I went out, ate at the popular Happy Bar & Grill, but also at a few taverns with traditional dishes; I visited the theatre several times, tried to write at The Quill, billed as a writers' café in the National Palace of Culture, saw art exhibitions at the Czech Embassy, and of course went to bookshops to get lost in the sea of titles; I also stumbled upon an enormous new café-bookshop with a wonderful atmosphere: Greenwich, near the beginning of Vitoshka Street. My Bulgarian publisher invited me home to dinner with his marvellous family, I spent a lot of time in the company of Borjana Dodova, a writer of Bulgarian origin from the Czech Republic, who was also on a literary residency, and I often roamed Tsar Osvoboditel Boulevard, all the way to Eagles Bridge and back towards St Kliment Ohridski University; I visited the churches of St Nedelya and St Sofia, the Alexander Nevsky Cathedral and the Seven Saints Church, the park near the National Palace of Culture, and, to my great joy, I discovered my very own "Cheers" in Sofia – where everybody knows your name – a wonderful café with agreeable people and a wonderful backstory. The café used to be called Purple (Лилаво) and was the meeting place for several regulars who would stop by every day. It turned into a second home for them, and the twenty or so people became like a second family for each other. One day, out of the blue, the proprietor decided to close down the place. The regulars were up in arms because it felt like an assault on their home and family. They simply couldn't allow it. So what did they do? They pulled together, collected the necessary funds and took over the café themselves! For the new name they also found a witty solution: Purple now became Been Purple (Беше Лилаво). I went there almost every day for a beer and the good rock music. The people I met – Zvezdan, Plamen, Asen, the girl with the dog and all the others – immediately became my friends and welcomed me into their circle, into their family.
But then things with the virus started to change and would continue to do so at a fast and unpredictable pace. I remember it all began like this: sometime around 6.30pm I went into the Been Purple, ordered a Zagorka beer, and Zvezdan said to me: "But only if you down it pretty quick." "Why?" I asked. "Everything's closing, nothing's going to be open except supermarkets and pharmacies." "Since when?" I asked. "Since half an hour ago," he quipped, but with a wistfulness. Тhat, unfortunately, was my last beer at the Been Purple and the last get-together with Zvezdan and the others.
All of a sudden, our whole reality began to get bogged down in numbers and terminology, with the most common words being: positive, negative, tests, inpatients, artificial ventilation, respirators, curfew, banned, closed, etc. I watched the press conferences of Ventsislav Mutafchiyski (president of the crisis management unit in Sofia) and Venko Filipche (health minister of North Macedonia) with an interest and excitement I usually reserve for sports matches, watching them with fascination as they gave insight into the virus situation in both Bulgaria and North Macedonia. But there was still no need for panic, still nothing that made me think of going back home. The most important thing at that moment in my mind was the reason I had come to Sofia: writing the novel On the Way Back (На враќање), the first part of which I had already finished back home, and the second, which I was writing right then in Sofia, was coming along brilliantly.
Despite the form of my stay clearly having changed due to all the closures, looking back I can't complain because the weather was unusually warm for March, with lovely sunny days. I used the opportunity to go out for walks in Sofia's beautiful parks: the one around the National Palace of Culture, but also many parts of the fascinatingly large Borisova Gradina park, which is very close to the house where I was staying. So, all set for a picnic, I would go for a walk and then spread out on the grass and get out my laptop, a can of beer and some nibbles. I felt that nothing could be nicer and that I was enjoying life as it came, basking in the glorious weather and writing my novel. That is roughly how I passed the third week of my residency. During one of those picnic writing sessions in the green of Borisova Gradina, when the virus was all over the news and occupied a rather large slice of reality, I met two girls. They came up to me with a bottle of vodka and suggested we "disinfect ourselves". We got on swimmingly and spent the whole day together. Although I never met them again and probably never will, I remember them fondly for their hearty and friendly attitude. They appeared at a juncture when I sensed a whiff, but only a whiff, of a familiar mild loneliness listening to all those recommendations and appeals that one stay at home within the family. The whole world, country for country, was starting to shut down.
At the end of that third week, something happened that would plainly alter the course of my residency: Bulgaria's crisis management unit decided to prohibit the use of parks and all paths through them. That razed my last rampart of freedom and, truth be told, I no longer had a space where I could move around freely, live and write; the perimeters of my world were the house where I was staying and the Billa supermarket. In the light of all that, as well as the ever more complicated situation in terms of getting home (bus services had been suspended), the moment came when I had to face up to reality: it was time to return home.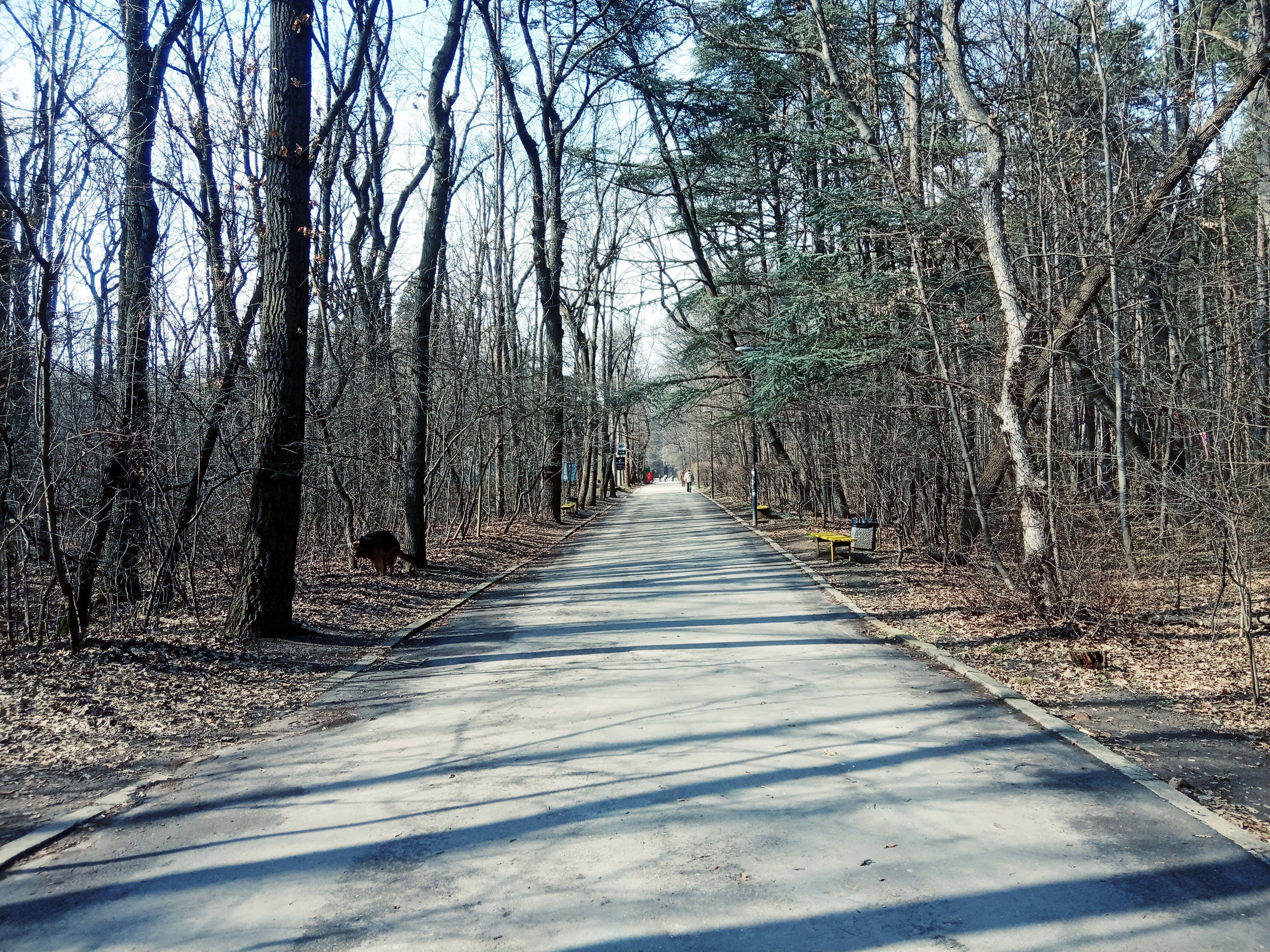 I went to the embassy and enquired if they knew any way of getting to North Macedonia (for example, they could ask a person going back by car to contact me). To my very pleasant surprise, they offered me a lift to the border in an embassy car, not the next day but the day after, which was a great relief and eliminated the uncertainty of looking for a taxi and possibly not finding anyone who would embark on that risky business (which was conceivable if the Covid situation escalated).
But since we had long since entered a phase where things changed not from day to day, but from hour to hour, the very day I was to return home North Macedonia started implementing a new regulation: everyone returning from medium-risk countries (which included Bulgaria) and high-risk countries had to go into mandatory quarantine! Not like before, when the regulation specified quarantine at home, i.e. it recommended that one self-isolate, but now it stipulated full-on quarantine, and no one knew where that would be or what it would look like. Images of horrific places with only the most basic facilities and substandard hygiene immediately began making the rounds of the internet. All of that increased my tension, uncertainty and fear of going back.
The Literature and Translation House where I was living offered that I could stay on for as long as I wanted because the Polish writer who was supposed to arrive the next month had cancelled his trip. So I faced a difficult decision: Should I go back at all costs? But what if I didn't go back now? Things were looking ever more complicated and I didn't believe they would change drastically for the better, nor that the quarantine regulations would be lifted soon. So I thought I'd have to take that path sooner or later. "Are you still planning on leaving?" Aleksandar, the consul at the North Macedonian embassy, asked me. "Yes, I'm going tomorrow. My mind is made up," I replied on Saturday evening, having reviewed my decision for the last time. I would meet the challenge headlong, which, ironically, we could call the name as the novel I was writing, On the Way Back.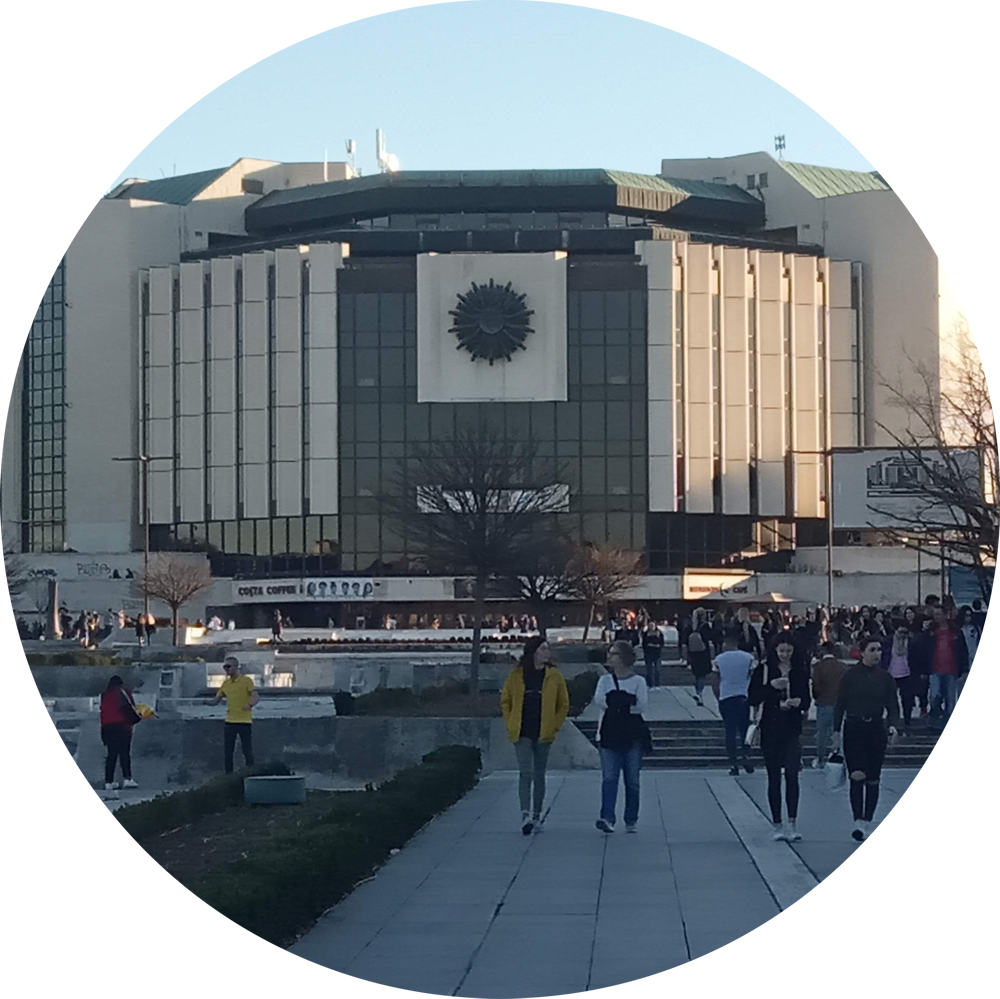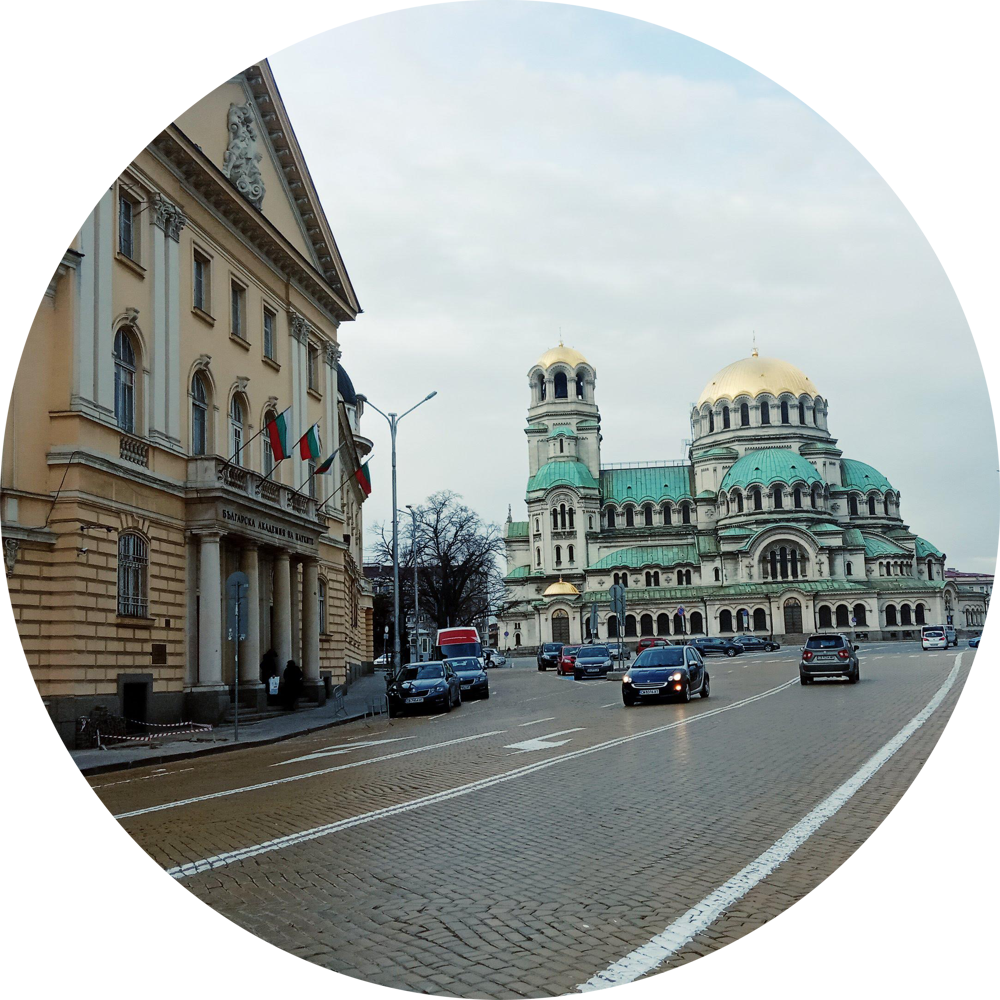 I remember the last walk in Sofia with my Bulgarian friend Ivan as if it was yesterday. We kept to the narrow footpaths, steering clear of the parks and gardens, as we headed to Vitoshka Street, where, again, always on the move, without loitering, we walked around with the sole aim of saying goodbye until a better future. After some snapshots, a few forced jokes and a cigarette or two we saw each other off – him leaving in one direction, me in another, towards my Latinka Street via Borisova Gradina, which I never got to explore completely. Just before the end of our walk, Ivan had slipped into a shop and bought me a pair of sunglasses to protect my eyes from the risk of infection on the journey back to Skopje. And Yana Genova, the director of NextPage and manager of the house, came to say goodbye at twenty to nine on Sunday morning, just before I left. In a warm and typically Balkan way, she gave me a bag full of requisites for the trip: books, food (a delicious home-made pie) and disinfectant.
I was at the embassy on the spot of nine, and after a friendly meeting and chat over coffee with the consul they "let me go" on my adventure. The first leg of my trip home was with the diplomatic car and the embassy's driver. Despite the nagging uncertainty about what would come after the border it was a pleasant, sunny departure from beautiful Bulgaria.
Noon: the North Macedonian border and the beginning of the adventure of going back. If I had known I would be forced to wait for ten hours, I might have read a book. If I had known we would be waiting ten hours in that one place, I might have made the effort to open my crammed suitcase and get out a few more clothes to protect myself from the cold March wind that blew ever more strongly as night fell. We arrived at the border one by one from every corner of the globe, after who knows what ordeals, and if we had known how long we would have to wait we might have lit a fire together. Only later did we learn of the poor management of the pandemic: people were let to gather until about twenty had arrived (some would literally wait all day), and would then be taken by bus to the quarantine quarters (which no one yet knew anything about – where they were or what they looked like). Also, as of 2pm, the border guards kept making empty promises that transport was on its way.
Two minibuses finally arrived at around 10pm. Ten of us were squeezed into each and taken on the twenty-minute trip to Kriva Palanka, where we were transferred to a large bus. The whole time a police patrol car drove in front. Neither the border guards, nor the police, nor the minibus driver knew any details, and only when we got into the large bus did the driver inform us that he was taking us to the Ibis Hotel in Skopje. I still remember my sigh of relief at hearing that; I also felt relieved for my parents and friends who had been waiting for ten hours, far away from me, but were with me the whole time, sharing the same fear of the shocking images of old army barracks that had started circulating on the internet the day before. Only then, in the midnight gloom of the bus that was travelling through familiar areas, did I feel for the first time that I was really on my way home.
The Ibis in Skopje is a great place to stay and, more importantly for me, it provides excellent conditions for writing. I had a room all to myself, and although I wasn't allowed to go out or even open the door unless someone knocked (which they did when they came to take our temperature or brought us our meals), I have only pleasant memories of my two weeks there. It was there that I finished writing the second part of my novel, which, under the influence of what was happening to me, took an unexpected direction. The last chapter, titled "Quarantine", literally captured my own personal experience, mirrored in the story of my main character, who was also returning home; it happened in a very explicit, amusing way, that even I didn't expect. My protagonist and I shared a story, it became our story. That meant that we shared the same sleep disorders, dreams, nightmares, fears, joys and even my birthday, which we celebrated together and grew through it. Right then, shortly before the end of my mandatory quarantine, which turned into a sort of second leg of my residency, my protagonist and I became One.
Writing a novel opens up myriad possibilities for an author, such as receiving feedback from the readers, as well as providing room for personal growth and development with every new set of realities and characters one creates. But the endeavour has another aspect that I feel is equally as valuable and beautiful as everything mentioned above, and that is the very process of writing. Each of my novels has had a different writing process and each has been a special story in itself that is as dear to me as the novels themselves. The latest, On the Way Back, was a dizzying trip for both me and the protagonist in equal measure – a trip back to the essence, to a reality that often escapes us, that drifts away and out of sight like aalloon we accidentally let go of, a return to dreams, to a fantasy that strives to come true. The process of writing this last novel was like a life for me, with its long passages of birth, growth and development, but without the inevitable death, which I as the author had the luxury of leaving out – a life in a life that I had the privilege to see, record and live.

Excerpt from the novel на враќање (On the Way Back)
The first night. Why doesn't she call? She knows I'm coming back. Maybe she didn't know when. Maybe she's forgotten. Maybe she really has pulled the plug, and I was so carried away with my magic carpets that I didn't notice.
I dream I'm holding Andrej's hand and walking with him along the street he knows already, to my grandmother's house. The pink house next door isn't there in the dream, as if it doesn't exist and as if where we're going has nothing to do with it. I just want to show him where my grandparents lived, although I hardly remember them. I don't know why I chose to do it in the dark. We walk towards the house and I see a light shining, but how is that possible? Andrej and I press our noses to the window, and what we see doesn't frighten him because he doesn't know the people, but my hair turns white with fear. I can clearly see my grandparents eating dinner, talking, laughing and doing everything as if they're alive, and I can clearly see their faces, although I know they're long since dead; I don't know in the dream that it's a dream, which often happens to me, but I feel it's true. All of a sudden, my grandmother looks at us and points us out to my grandfather, while I freeze with fear. "Shall we let them in?" she asks him. "No, no, it's not time for them yet," my grandfather replies. But my grandmother, who very much wants to see us, ends that long second of fear and uncertainty and says to him: "I'll let them in anyway." At that moment, my fear changes to an abject dread that roils and tugs at me, just as I am roiled by my survival instinct, paternal instinct and the realisation that, in all the legends, the dead lure people and then take them forever. I grab Andrej by the hand and start to run and shout a long, loud "Noooooooooooooooooo" and rush down the courtyard path to the little street, which turns all to mud like quicksand, and as I sink I hold Andrej up above the surface and he is still safe, but I don't know for how long, I don't know till when. I wake up.
I was woken by a knocking at the door. The rules stated that the door was not to be opened unless someone knocked. It would be either a doctor or the person who brought food, and always with a police officer. All of them in biohazard suits. I opened and saw two of them in white suits from head to toe, and I had no idea who was who, but I soon realised when one of them got out the little device. My temperature was OK. I don't know if it was a short moment of despair after I thought I had reconciled myself to the situation, or a beam of irrational hope, but I began imploring them to let me go home, trying to convince them that I would meet all the requirements, that I had rented a flat, I wouldn't go to see my family, of course not, I wouldn't go out, if only I could leave – there was no need for me to be a burden to the state. They laughed comfortingly and told me to enjoy the fifteen days. I persisted and asked if I could speak to their superior so I could be tested and discharged into self-isolation, but then one of them told me rather sternly that I should reconcile myself: I would be there for the next two weeks, so I should find something to do. He advised me to treat it as an annual holiday paid for by the state. The fleeting hope that had sprung up disappeared forever at that moment.
At that very instant, everything turned to a series of images, dreams and the reality of ten square metres, everything fused into one, into a thought full of uncertainty and a longing for the reality that was neither physically distant nor exotic.
One day near the beginning, Irina called me. I didn't feel like answering and fell to ruminating. I didn't want it to be like this; she had probably heard it somewhere, she was sure to have found out, but I didn't want to repent like this, in a short telephone conversation like all the last ones, in which she was significantly and justifiably reserved. My phone rang a second time and I started to fear something might be wrong, that something might have happened to Andrej.
"Hi, what are you doing?"
"Nothing much. How are the two of you?"
"I have to drop by at work for two or three hours. Can you take Andrej to your place? You're here, aren't you?"
I needed a long, long sigh and a few more seconds to contort my voice, which often faltered, and I didn't want it to falter now.
"Irina ... I'm in quarantine. Mandatory quarantine."
English translation of the essay and excerpt by Will Firth.
Frosina Parmakovska, born in Skopje in 1985, studied Literature, Comparative Literature and Culturology. She is the author of several novels. For her third one, Countdown, she received the award for the best novel of the year, bestowed by the Slavko Janevski Foundation. Her fourth novel, On the Way Back, was published in 2020. Parmakovska lives and works in Skopje.
Photos by © Frosina Parmakovska.
Project Manager: Barbara Anderlič
Design: Beri